What is Occupational Therapy?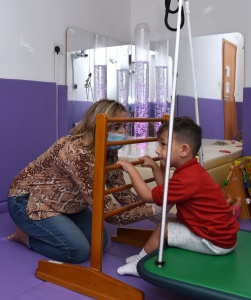 The goals of occupational therapy is to improve participation and performance of a child and all the child's & occupations& such as self- care, play, school and other daily activities. The occupational therapists will assess the child and modify the environment, or the way of doing a task to promote better participation and independence. Sometimes the occupational therapists work with the child to improve specific skills to help him or her perform better. They also work towards developing understanding of parents, teachers and others so that they can support the child to be more comfortable and participate well in various enviorments and the community.
About Us
The Occupational Therapists at the Rashid Centre work in conjunction with Special Educators, Physiotherapists, Speech Language Therapists and the child's family to enable the child to achieve an optimum level of independence and functional ability as well as aiming to improve their quality of life.
We use purposeful, graded activities to assist children in achieving their greatest level of independence during self-help, play and academic activities. These activities are used in combination with certain therapeutic techniques, apparatus and equipment, which are used to build up the abilities and skills needed for the child to eventually execute his/her daily living tasks independently.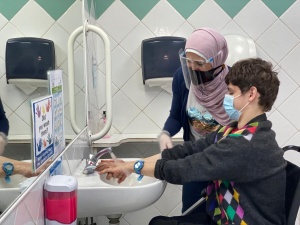 Children must actively participate and therefore activities need to be FUN! The Rashid Centre Occupational Therapists analyse and evaluate whether an child has sensory, perceptual, motor, cognitive, emotional and behavioural challenges to participation.
Then, they devise programs to promote engagement, exploration and achievement of skills. We support you as parents to help your child learn.
We use a variety of approaches to help as part of Occupational therapy intervention including and not limited to sensory stimulation, sensory integration, goal orientated learning, conductive education and the neuro developmental approach.
Students receiving OT input can be seen on an individual basis or in small groups. We also work closely with classroom teachers and families as our emphasis is on a holistic and integrated approach so that strategies are incorporated into all aspects of the child's daily life and in all environments, whether it is in the classroom, in the playground or at home.
Our Occupational Therapists often see students with similar needs in small groups for targeted and specific therapy input. The group context provides very positive motivation and a healthy atmosphere of sharing, peer support and competition.
The decision to provide small group therapy is based on a detailed assessment of need and an understanding of the best way to motivate individual children. Examples of such groups are Fine motor groups, sensory -motor gym activities and the play group sessions.